There are several nail designs for a unicorn that you may opt to try. If you think some designs and looks will make you stunning, why don't you try unicorn nails? You can try any design you want, especially those subtle pastel nail art for your nails.
So, try to break out the pastels, micro glitter, iridescent topcoats, and rainbow palettes. It's now time to create unicorn nail designs that would have a beautiful and attractive impact on your hands. If you plan to have designs for unicorn nails, it would be better to choose the most attractive one for you. Just keep scrolling to select the unicorn nail design that would be more suitable for your nails.
1. Purple/Pink Iridescent Unicorn Nail Design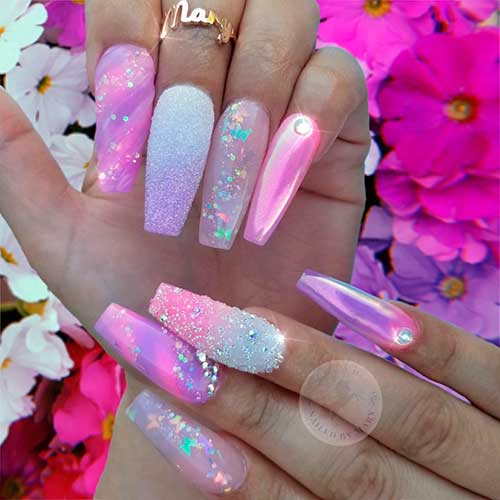 This excellent design above has beautiful shades of purple and pink. In addition, you can add confetti glitter and some rhinestones to amp up your fingernails. The sugar effect nail glitter increases the beauty of this nail art design, the pinky unicorn chrome nail is so beautiful, and you can do it with chrome unicorn powder. If you try this, your nails will have a layer base of twirling marble. Some twirls of butterfly glitters will also overlay your nails.
2. Bright Rainbow and Unicorn Nail Art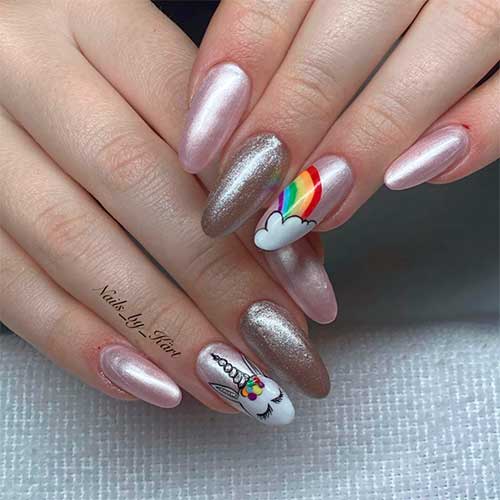 This unicorn nail style provides you with the best hand-painted nail art, where the gold glitter on an accent nail highlighted the design. The charming feature of this design is its unicorn face with blushing cheeks and closed eyes. These colorful unicorn horn nails' designs are perfect for teens and for anyone who loves a distinct sense of style.
3. Baby Pink with an Accent Nail of Unicorn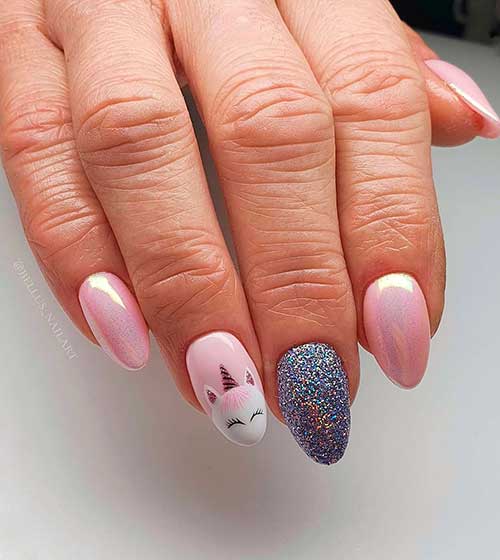 This type of natural nail design is perfect for anyone. The nail designs are made with soft, lustrous baby pink. On one nail, it is highlighted with a unicorn face, which is hand-painted in black, and pink. These nails are a classy and subtle way to display your love for a unicorn.
4. Purple/Blue/Pink Design, Glitter, and Horn Twirl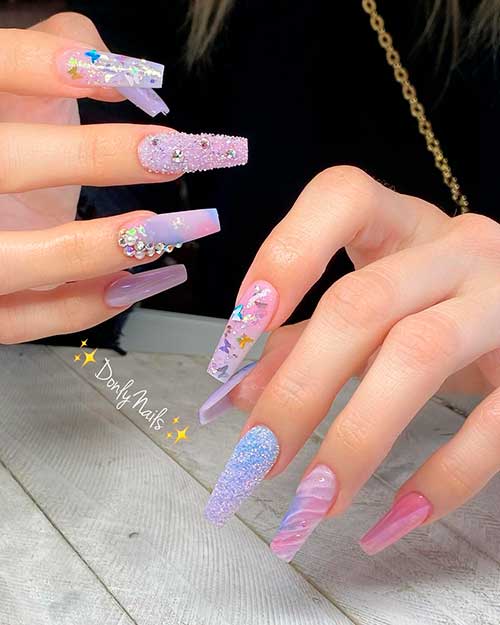 These stunning nail designs have an attractive combination of different types of manicures. Some nails are designed with soft pastel pink, blue, and lavender shades. Two of the nails are styled with silvery gems, while the other two nails are designed with a fantastic glittery design in different types of sparkles.
5. Unicorn Holographic Nails Design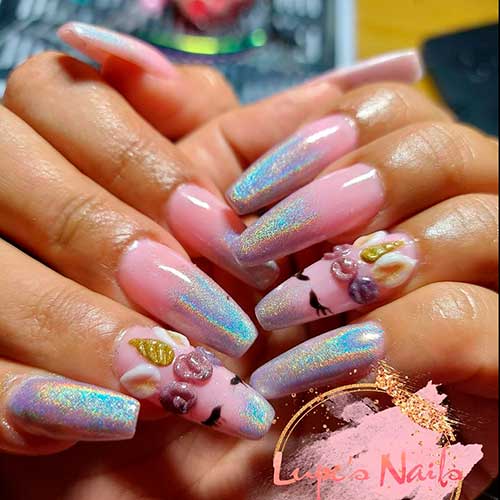 These nail art designs with holographic nails over pink base color are stunning, especially the prominent acrylic unicorn face. Besides, there are two sweet faces of a unicorn with big blue eyes and rainbow manes. These designs for unicorn nails are the perfect styles for you. So, you must try this on your nails and have a more attractive nail appearance.