Having your nails polished is one of the greatest things. With the vibrant colors and crystal-like designs attached to our nails, it gives us more life, not only our nails. Aside from that, it also improves our confidence and self-esteem which allows us to show off ourselves in public. Especially through social media platforms. One of the most trending nail designs to die for this year is the fall chrome nails. Have you ever tried and heard of it already? Well, you must try it out!
Indeed, the Fall Chrome Nails are currently one of the most recommended and requested nail designs. Further, it is today's trend when it comes to nail polishing and designing. Also, it gives an exquisite and elegant look to the nails, making them worthy of being shown off and shared with other people.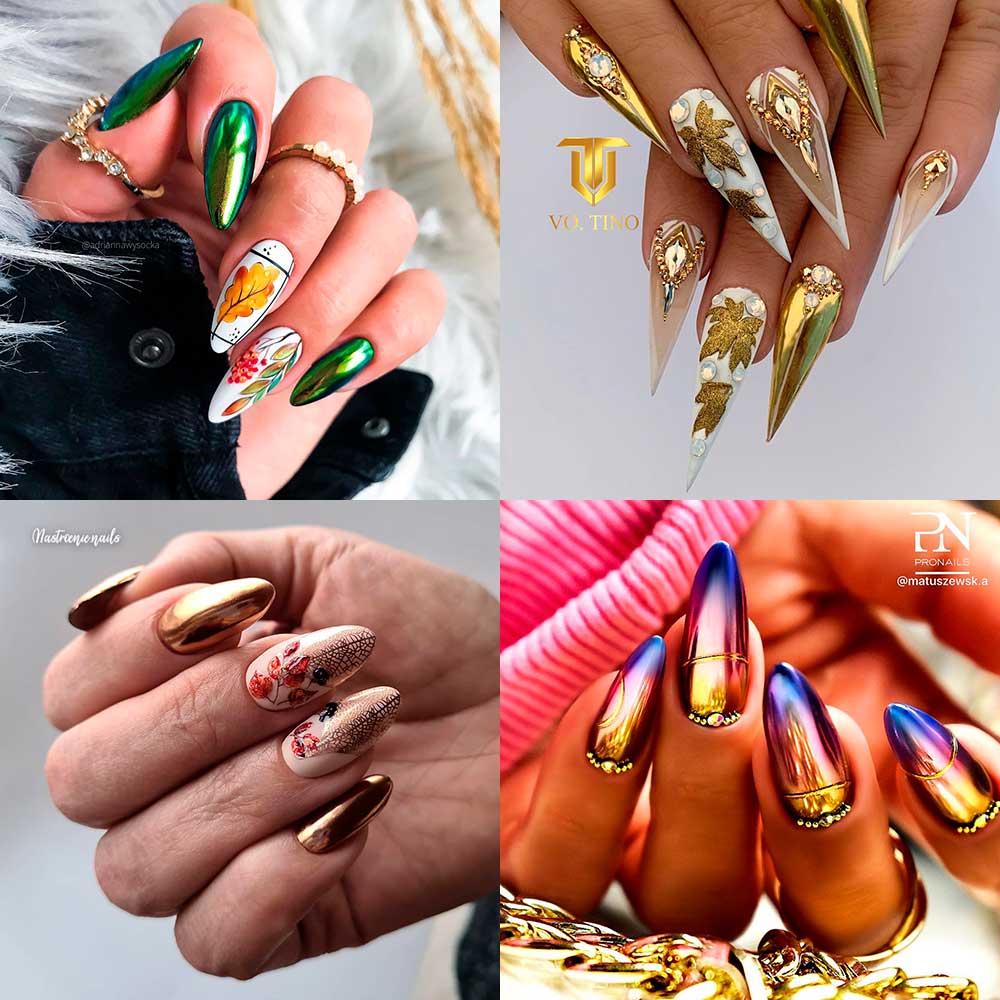 Since then, Chrome nail design is already a trend that has been matte, glittered, and so many more. For now, the theme is to express cute fall and simplicity by coordinating the nails with different colors and materials. It then symbolizes calmness and nature.
Making up a cute fall chrome nail design isn't easy. It requires both hard work and expertise to ensure that each nail has the best output. But how to get chrome nails?
How to Make Chrome Nails
?
Well, it starts by ensuring that the nails are all clean and in shape. In this way, it will be better and easier for the manicurist to apply chrome nail polish. Then, apply a primary layer of clear nail polish to the nail to keep the design in place.
After that, the application of design happens. Here, the professional manicurist applies the availed customer, be it a tree, leaves, and other else representing the fall season. The warm colors such as earth, yellow, white, black, and green are being blended to ensure that they will come perfectly with the either drawn or attached design. After that, the manicurist ensures that the design is final and then applies another layer of clear nail polish to seal the design.
There are also nail machines used to make nail designs that last for a longer time. Chrome nail powder is also used to elevate and give more beauty to every nail applied with a chrome fall nail design.
Now, let us take a look at some of the uploaded fall chrome nail designs on Instagram.
1. Ivy Pretty Fall Chrome Nails Idea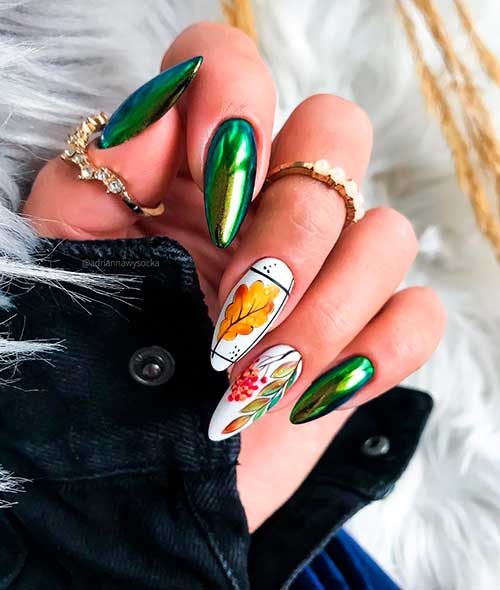 This chrome fall nail design has a mixture of warm earth colors and ivy that makes it vibrant and elegant at the same time to look at.
2. Mirrored Warm and Golden Fall Chrome Nails Idea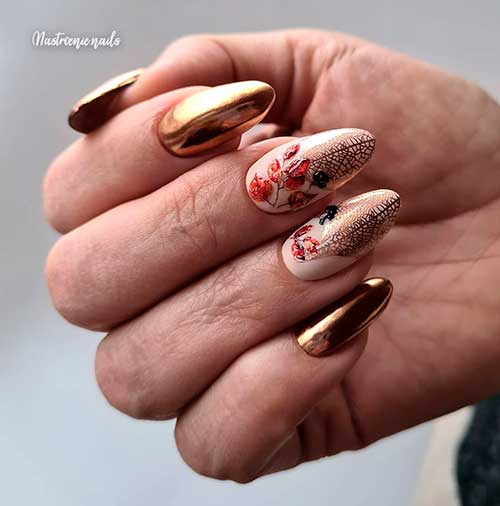 This design expresses earthy warmth as well with a mixture of gold as an earth's abundant mineral.
3. Elegant and Golden Chrome Spikes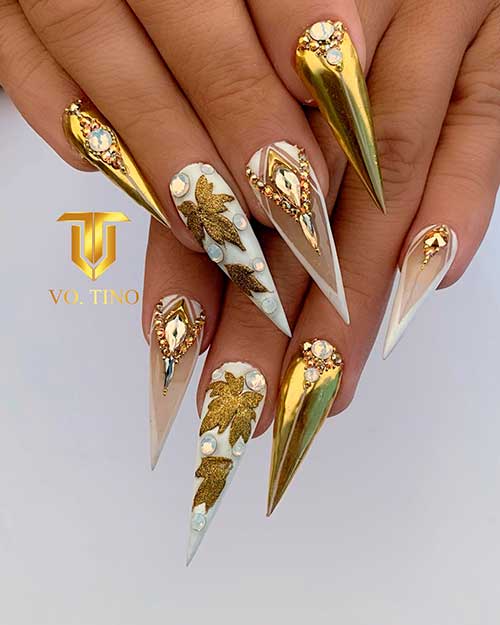 If you are already tired of the usual flat-tipped or curved nails, then this is a must-try. The elegant golden chrome fall nail design expresses extreme elegance with its shape, as well as color. Aside from that, the attached crystals are additional elegance providers. Just make sure that you'll be careful about having this nail design.
4. Abstract Rose Gold Fall Chrome Nails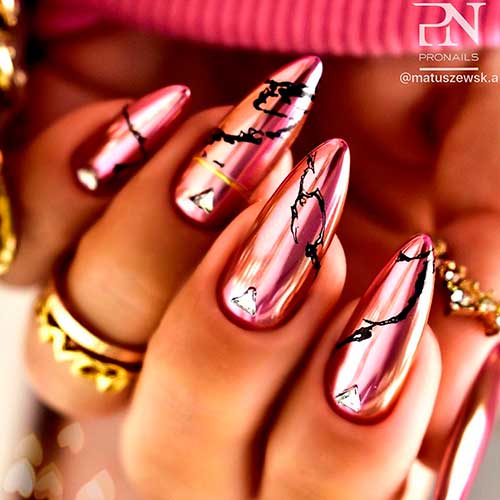 If simplicity with a touch of art is what you want, then this design is yours. It has an elegant pink-pearl color and abstract lines that represent femininity and art at the same time.
5. Chrome Ombre Autumnal Nail Art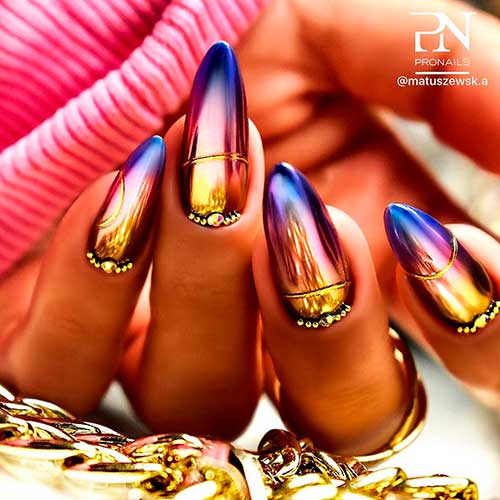 Lastly, this design represents an ombre, which can mean progress from one color to one another. It can also mean elegance and being multi at the same time.
6. Miscellaneous Mirror Nails Ideas
Check out these cherry-picked chrome nails images with different color shades and shapes, and all of them may be suit all occasions all over the year, just keep scrolling for inspiration!