Expressing creativity and style through nail art has gained significant popularity. From vibrant colors to intricate designs, there's no shortage of options to adorn your nails. One trend that has captured the attention of nail enthusiasts is swirl nails. These captivating designs feature mesmerizing swirl patterns that add a touch of elegance and uniqueness to your manicure. So, in this article, we will explore some fabulous swirl nail ideas that will surely make your fingertips stand out.
1. Pretty Swirls
If you are looking for a pretty swirl nail design then these glitter nude nails with different matte shades of pink and purple swirls are for you. Of course, the ethereal shimmer of the glitter adds a touch of glamour, catching the light and casting a spell of enchantment. Besides, the delicate swirls in various matte shades of pink and purple gracefully dance across the nails, creating a harmonious blend of soft and vibrant hues.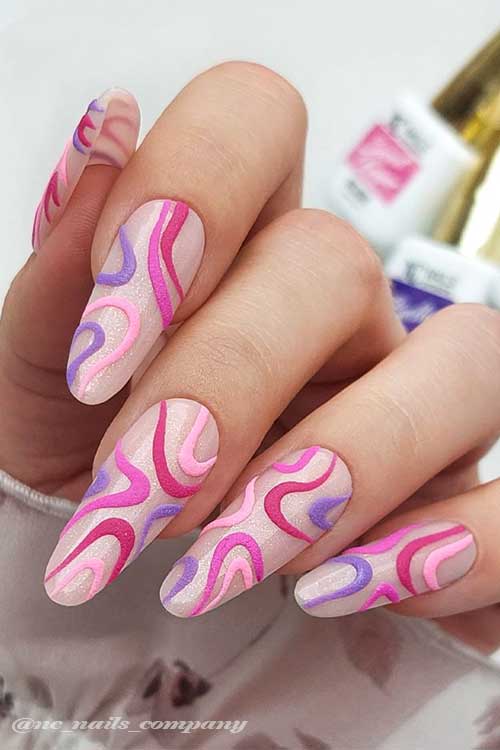 2. Glitter Swirl Nails
These long milky white nails adorned with dazzling gold glitter swirls and a vibrant pop of neon pink at the center create a captivating and luxurious manicure. The milky white base exudes elegance and sophistication, while the gold glitter swirls add a touch of opulence and glamour. They cascade across the nails like shimmering ribbons, catching the light and casting a mesmerizing glow.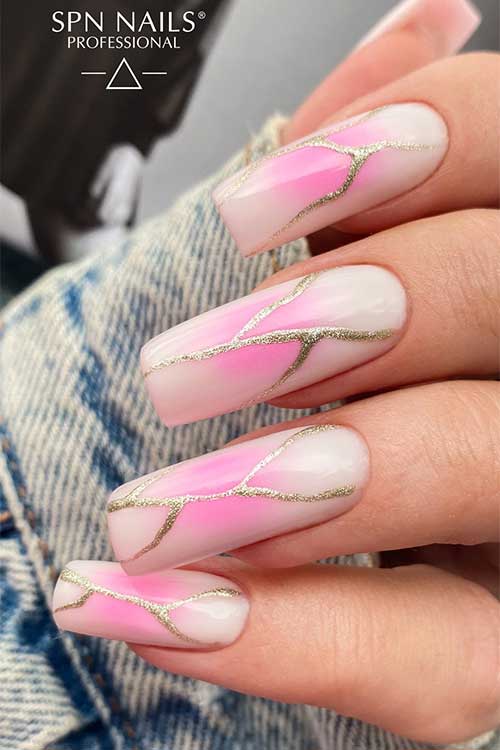 3. Pastel Swirl Nails
For a soft and dreamy look, opt for pastel swirl nails. Choose light shades like baby blue, lavender, mint green, or pale pink as a base color. Then, use a fine nail art brush or a toothpick to create delicate swirls using complementary pastel shades. The result is a charming and ethereal manicure that's perfect for any occasion.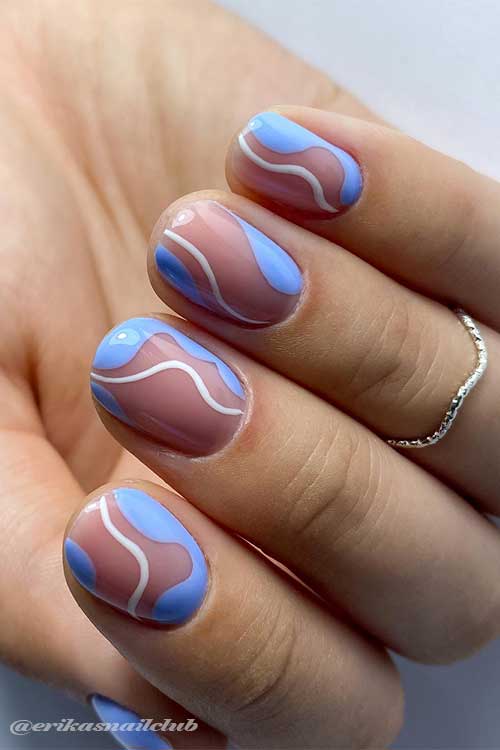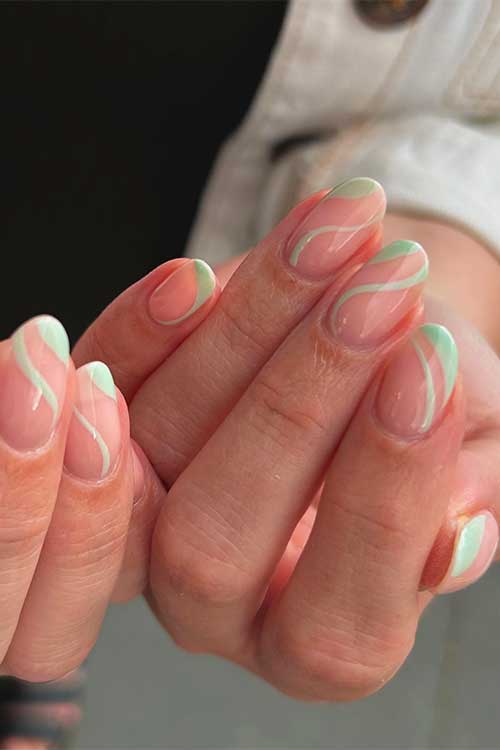 4. French Swirl Nails
The long, square-shaped nails with elegant French tips are transformed into a captivating work of art with delicate lilac and purple swirls. The pristine white base acts as a clean canvas, allowing the mesmerizing swirls to dance across its surface. The lilac hues blend seamlessly with the deeper shades of purple, creating a harmonious symphony of colors. So, with these French swirl nails, you can truly embrace the beauty of artistic expression at your fingertips.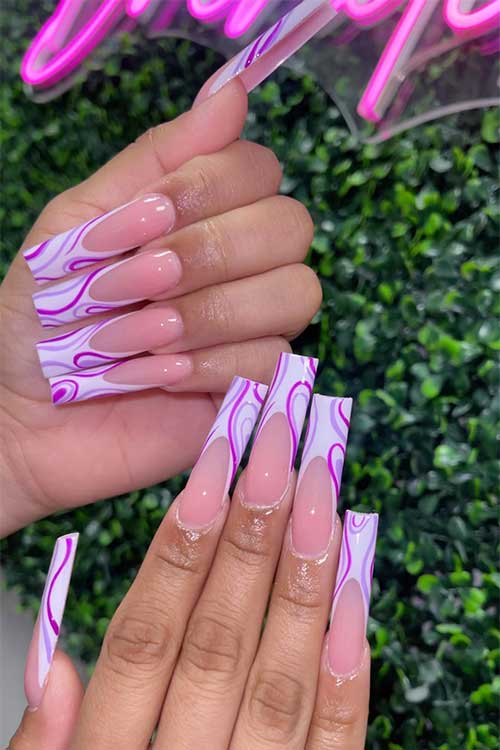 5. Matte French Manicure with Swirl Nail Art
This stunning French tip design showcases a captivating display of matte pink, green, neon red, and gold metallic swirl nail art. Indeed, the matte pink and green swirls intertwine like vines, exuding a sense of natural beauty and grace. Interspersed among them are bold neon red swirls that command attention and inject a burst of fiery energy into the composition. The addition of gold metallic swirls adds a touch of opulence and luxury, catching the light and adding a glamorous shimmer to the overall design.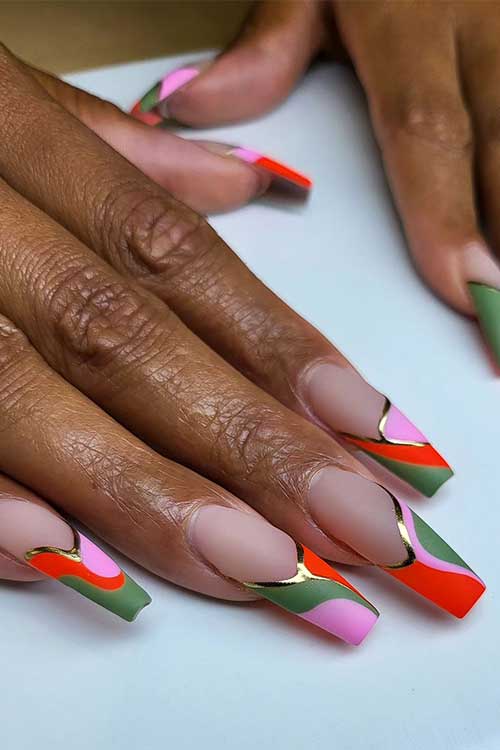 6. Enchanting Swirl Nails
This stunning nail design has a gorgeous color palette and features a range of peachy pink, vibrant orange, regal purple, pristine white, and dazzling gold glitter swirls. These colors blend harmoniously, creating a visual symphony that dances across the nails. The swirls intertwine and flow gracefully, resembling the delicate brushstrokes of a masterpiece.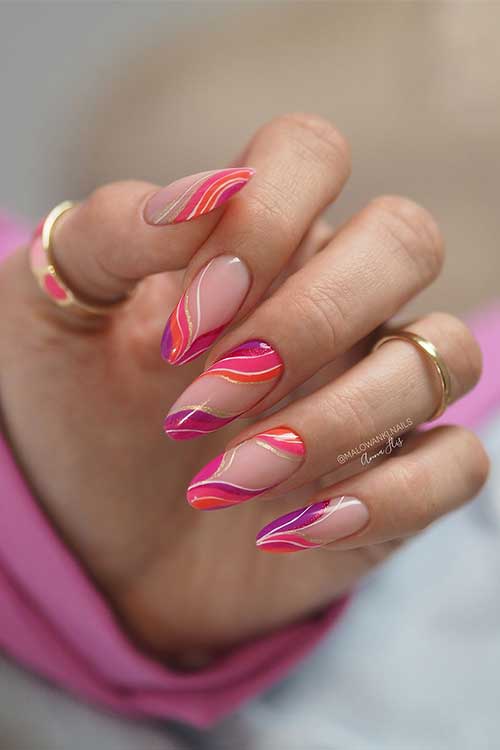 7. Classy Swirl Nails
Indeed, the understated nude base of this classy design provides a timeless and refined backdrop, allowing the swirls to take center stage. Additionally, the delicate white swirls gracefully intertwine with the luxurious gold glitter, forming a mesmerizing dance of light and sparkle. Also, the combination of white and gold brings about a sense of opulence and glamour, adding a touch of luxury to the overall design.
Each swirl is meticulously crafted, resembling intricate patterns found in fine art. These short square-shaped nails with white and gold glitter swirls exude a sense of class and grace, making a statement that is both refined and tasteful. So, with this manicure, one can effortlessly elevate their style and embrace a truly elegant and captivating look.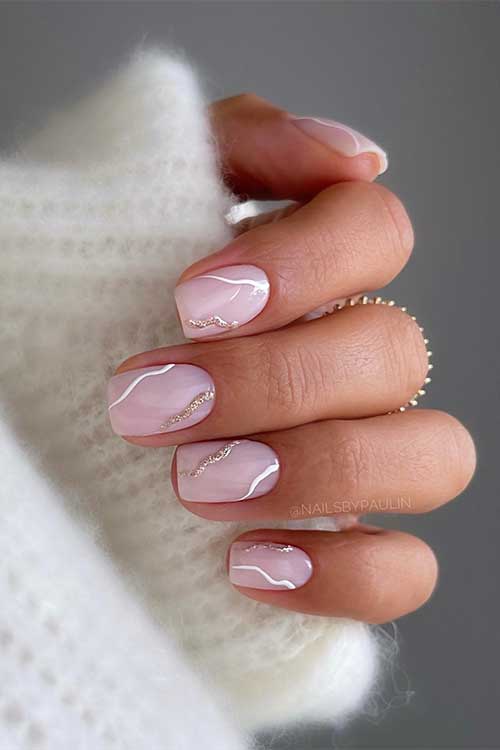 To Conclude
Swirl nails offer a captivating and artistic twist to traditional manicures. Whether you prefer soft pastels, metallics, nudes, or glitters, there's a swirl nail design to suit your style and mood. Experiment with different color combinations, techniques, and patterns to create unique and eye-catching swirl nail art. Let your creativity flow and transform your fingertips into miniature works of art with these mesmerizing swirl nail ideas.