Have you ever tried to put lime green nail polish on your fingernails? Well, it's time to try lime green Ombre nails. In addition, this adds beauty to the hands and the person's style. Besides, it also makes women more attractive. If you are deciding to get your nails polished, there are many designs, shapes, colors, and types that you can add to create more prettiness for your hands, with lime green Ombre nails.
What do ombre nails look like? Ombre nails are a type of nail design manicure to be exact, which creates a color gradient. It has a light color on the top and blends slowly into a darker color up to the tip. This type of style requires more time and practice to achieve it. But there are lots of ways and techniques that you can do to make this ombre style.
One of the most in-demand styles is the Lime Green Ombre Nails. This creates a green and natural feels to the nails. Also, some only add colorless, making it simple but elegant. But there are many colors that you can match to the lime color, such as follows:
1. Lime Green and Pink Ombre Nails
The first color that you can add to a lime green is pink color. Start making it an ombre design, you can add the pink color as the top color and gradually add the lime color as the tip. Of course, this idea can create a bright and cheeky color.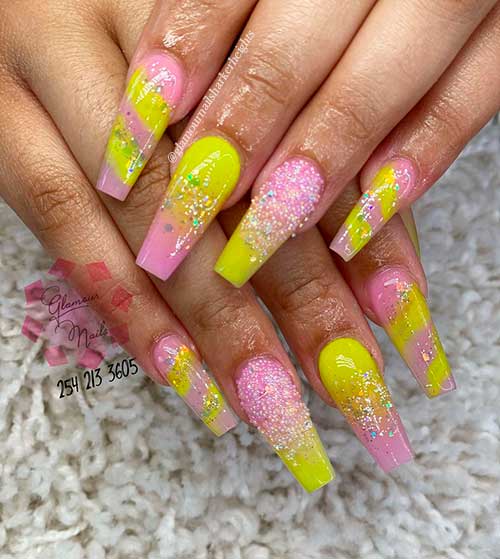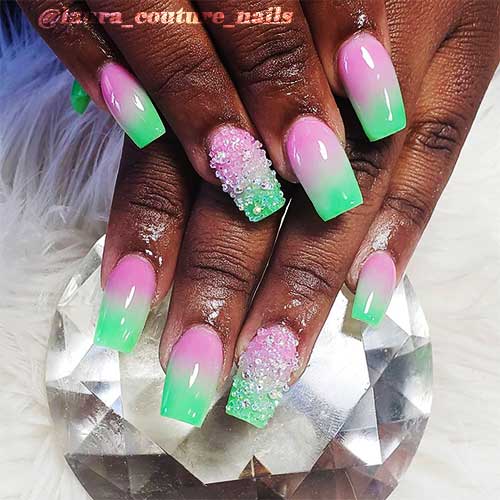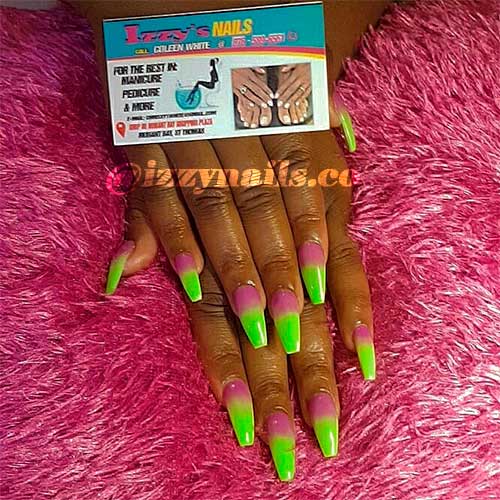 2. Lime Green and Yellow Ombre Nails
The next ombre style is lime green with yellow color for its tip. That style looks a natural feeling like a leaf. Indeed, this is because of the touch of green vibe color to the nails.
Groovy Lime Green and Yellow Ombre Nails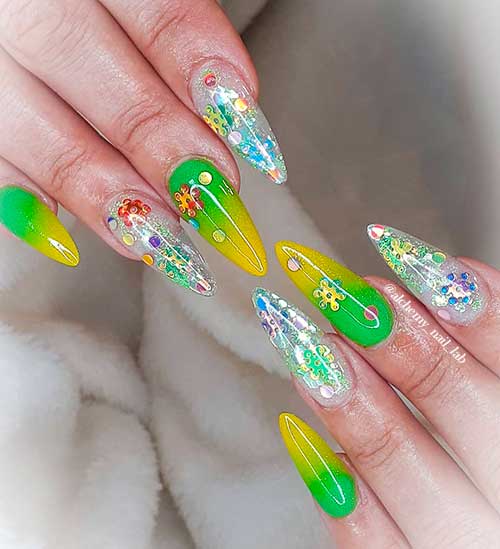 Introduce a touch of glitter to your lime green ombre nails and enjoy the look. Furthermore, choose the nail shape you prefer, and I think almond-shaped nails are a perfect choice to try this nail idea.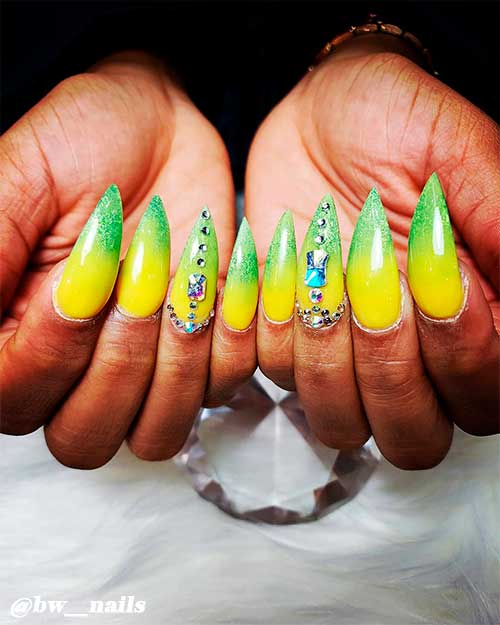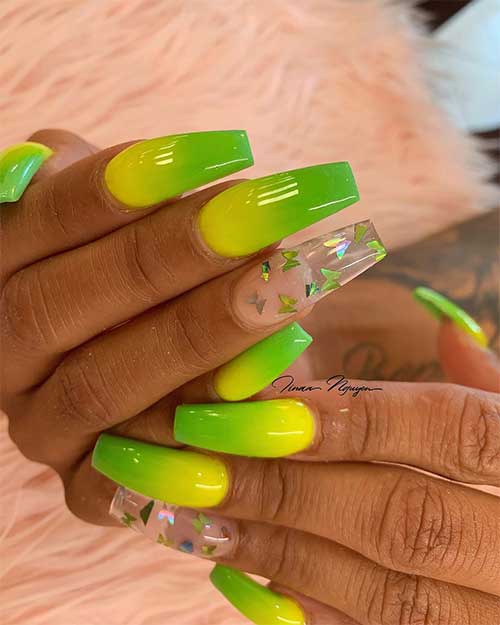 3. White and Lime Green Ombre Nails
Another pure and straightforward vibe is what you can get when you use an ombre color of lime green and white. Of course, both colors represent purity and cleanliness. At last, this nail design is ideal for anyone, and you can make the white color for the tip and the line color for the top.
Short Lime Green and White Ombre Nails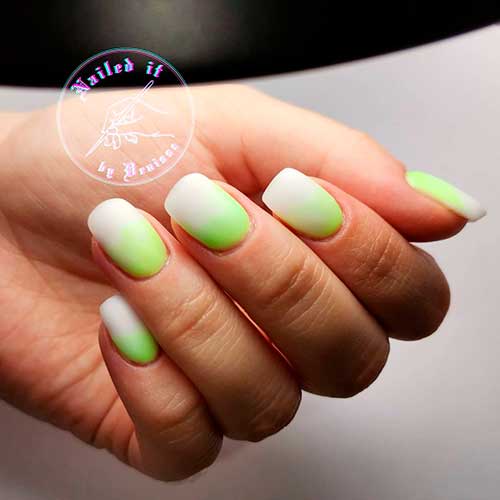 Indeed, short nails are still a big demand nowadays. So, matte short nails of lime green withe ombre nail art will fit any skin tone.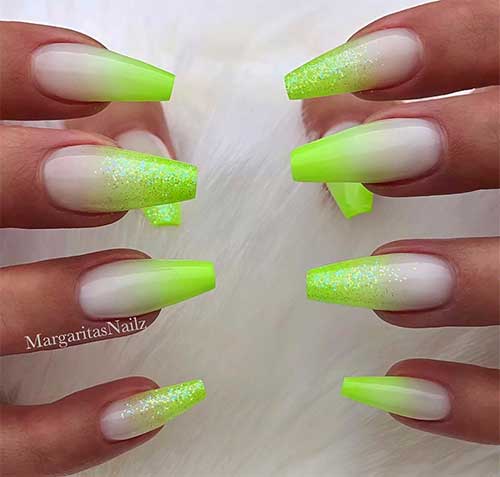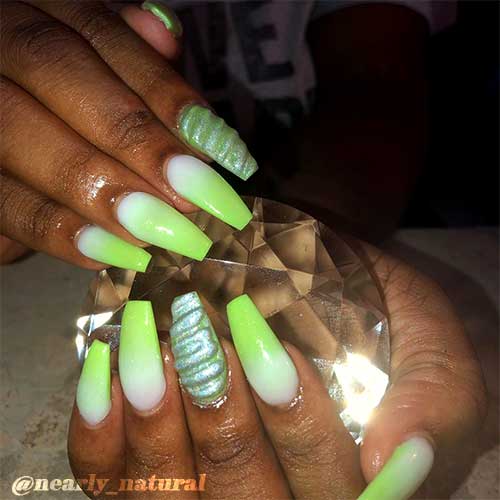 4. Coffin Lime Green Ombre Nails
The next design is the coffin lime green ombre nails. In fact, this is suitable for those who want a bold style for their fingernails. In addition, this will be much prettier if the nail shape is oval or with a square tip.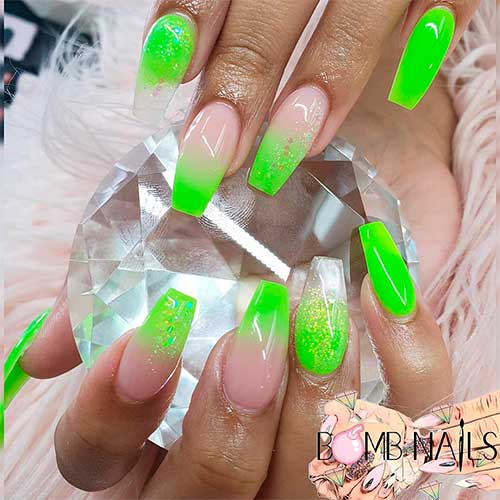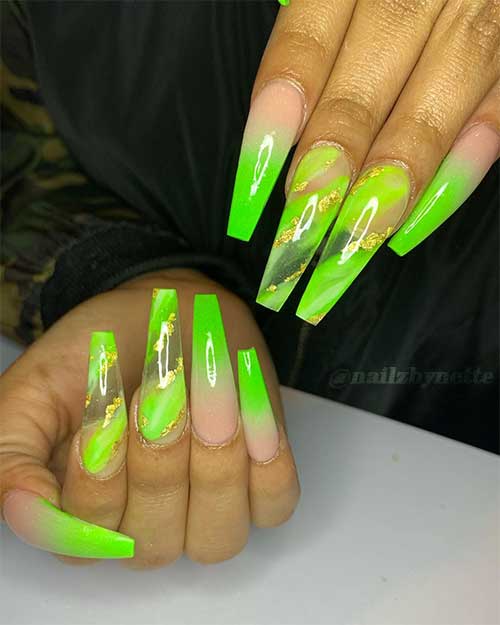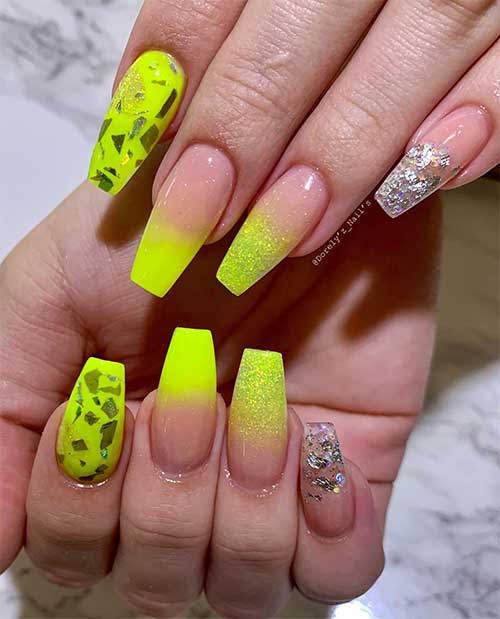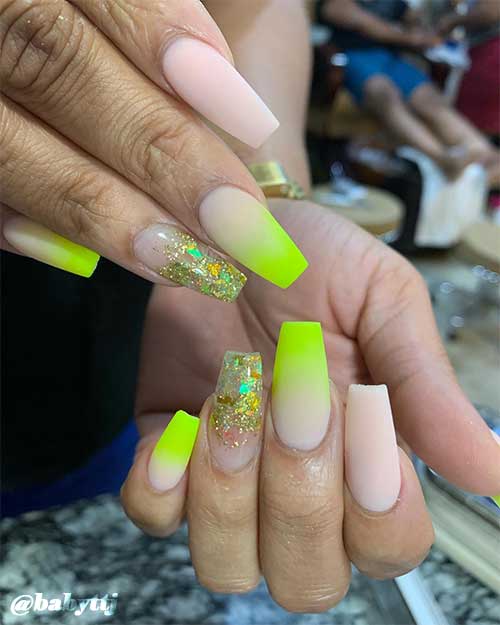 Glossy Lime Green Ombre Nails with Rhinestones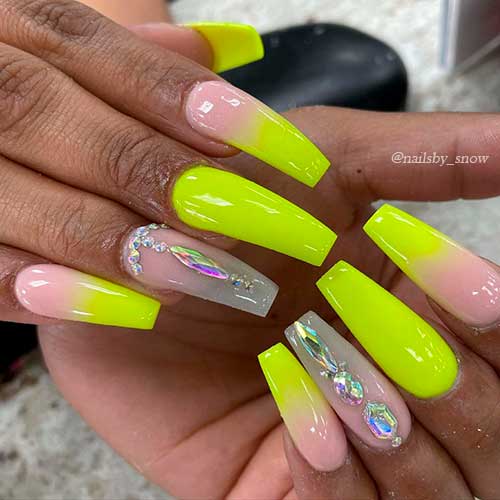 Matte Lime Green Ombre Nail Design with Accent Black Sunflower Nail
Of course, lime green and black nails are so attractive, and I really love the combination of matte and glossy nails. In addition to, the accent black nail with sunflower.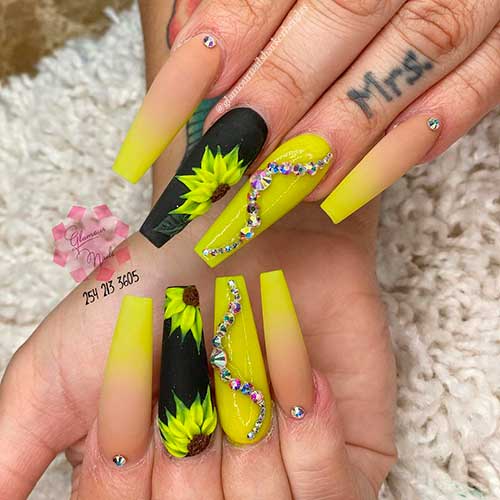 5. Square Lime Green Ombre Nails Idea
For a stunning manicure, try Lime Green, and Ombre Nails. Also, this nail trend is a wow way to add an exotic flair to your mani. While ombre nails are a great option for summer vacations, you can also wear them as a bold statement.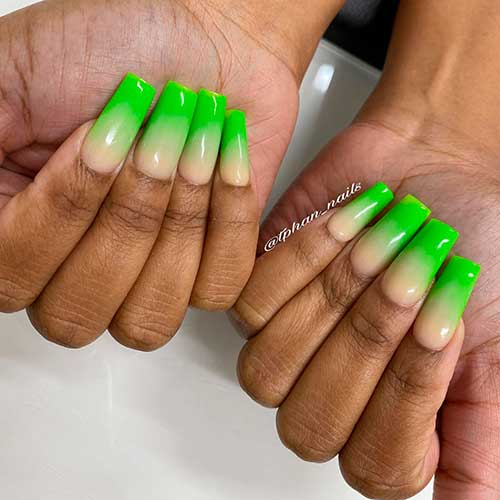 To Conclude
Finally, the Lime Green Ombre Nails is now one of the most used by women today. Now, you can do it, as there are many ways to make it. Besides, you can add designs, shapes, styles, glittering styles, and more. Also, for you to make it elegant, you will only need to be more creative enough in the method that you want to achieve.
At Last, are you getting ready to make your own Ombre nail design? Well, there are now many videos and ways or guide for you to achieve it.  But if you don't have the talent to do so, don't worry because there are a lot of salons that can make your Lime ombre color design possible. Furthermore, If you like to check out different ombre nail colors such as blue, yellow, and pink & white then tap this link and enjoy!