Are you trying to figure out what the cutest ideas for summer nails you can go for? Well, fear not because I will be giving you some of the most amazing nail designs that will look fantastic on you. Let's get started!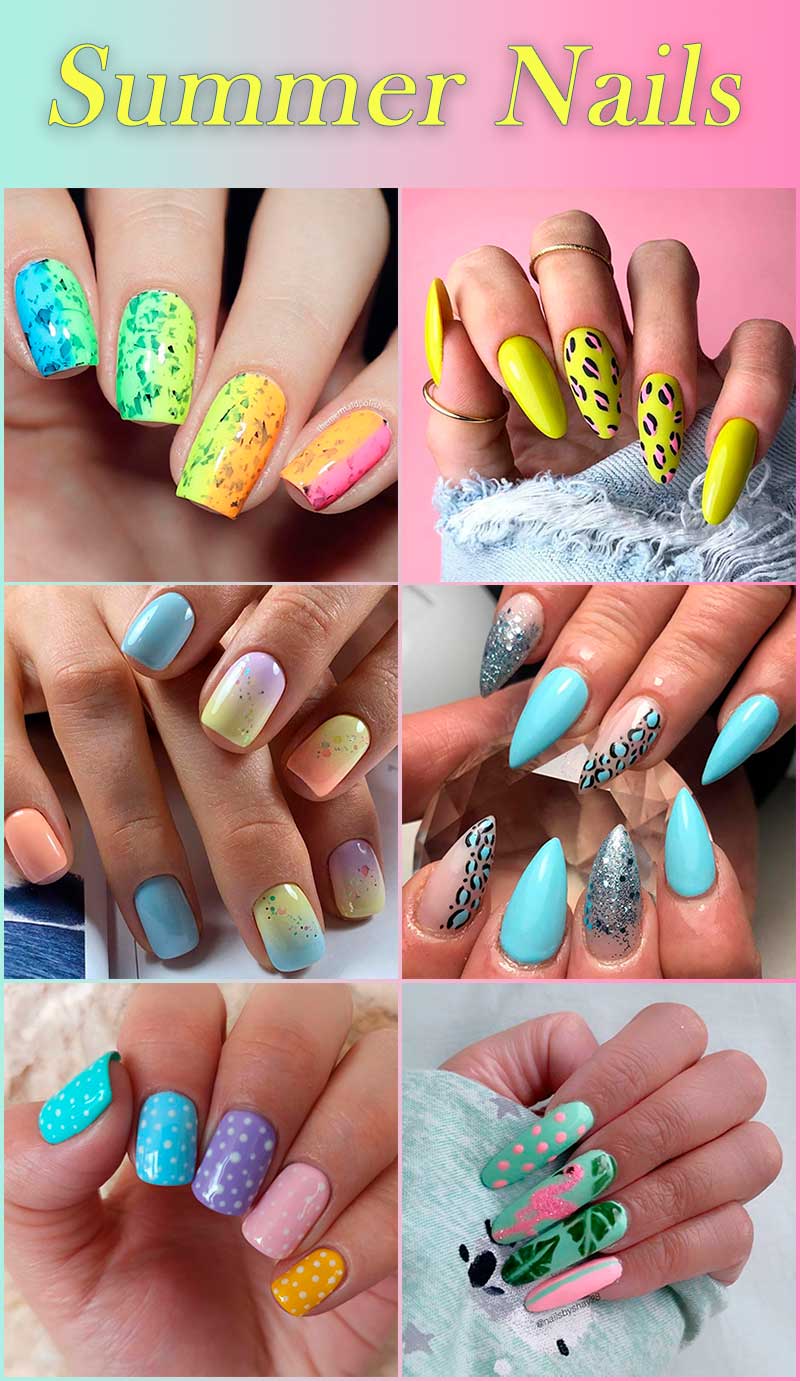 1. Light Blue Summer Nails With Glitter
I'm not really into light blue nails, but it is a really cute color. With the light blue color, it's best to add some glitters with it since it won't be that extravagant but will make your nails look more interesting, it won't be that simple boring light blue.
If you have a lighter complexion then this will be the perfect nail design for you, for a darker complexion. Indeed, it will still look amazing, but going for a darker shade of blue will be perfect.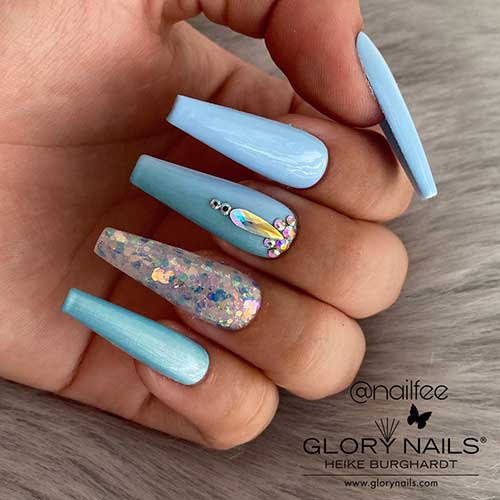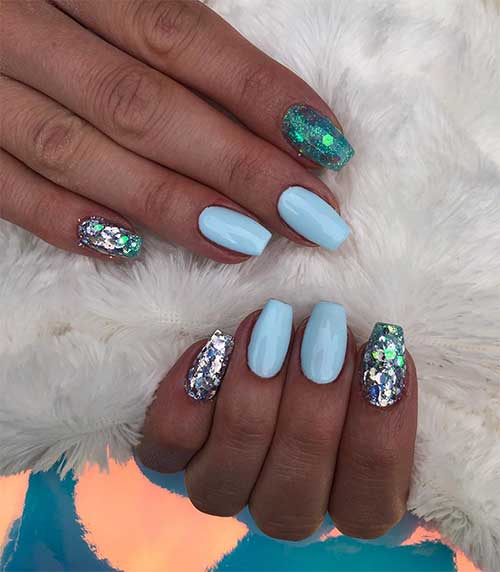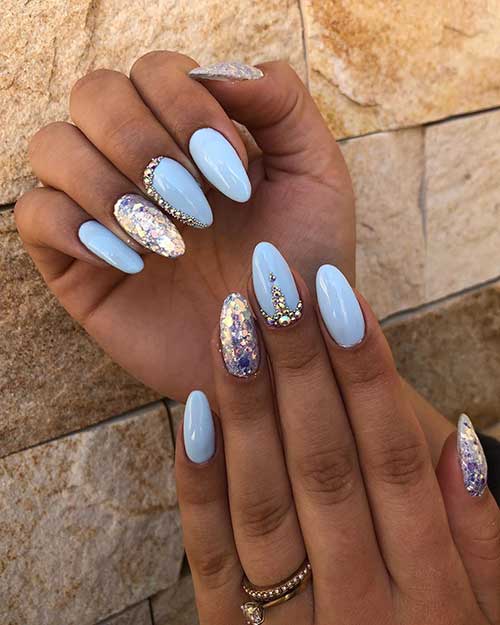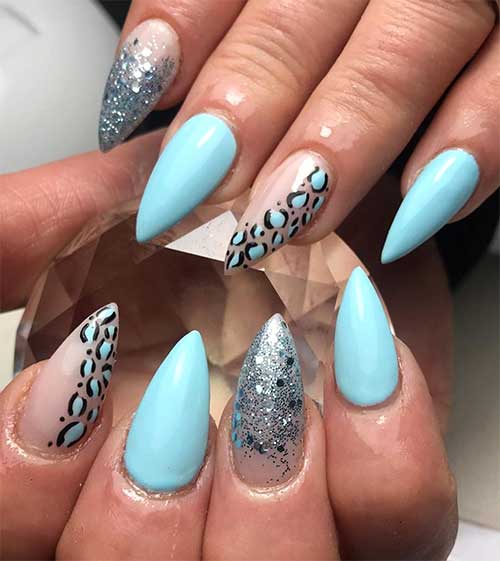 2. Colorful Summer Acrylic Nails
This is something that I have never tried before, and I think that it looks amazing. I would love to go for colorful nails this summer. It has a lot of cute summer nail colors. Then, choosing this type of nail this summer is a wonderful choice.
Still, really have nothing to say about this kind of nail design. A lot of people have tried this kind of nail before and they all rock it! If you are thinking of going with this one, I am sure that they will look amazing on you.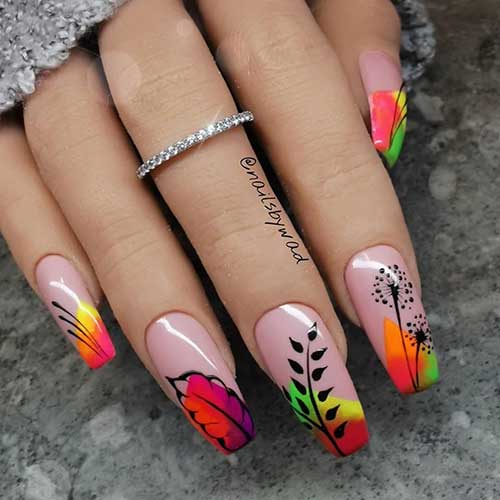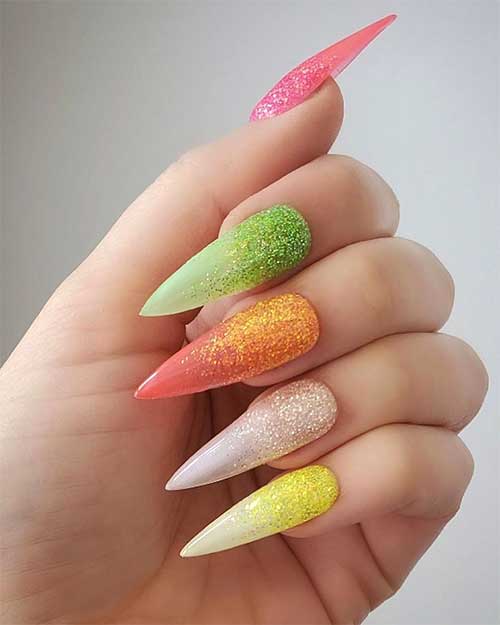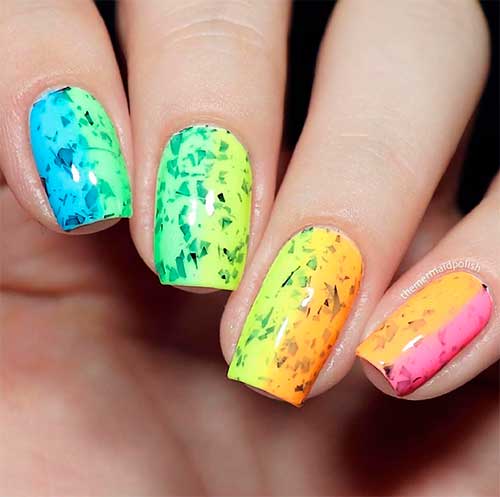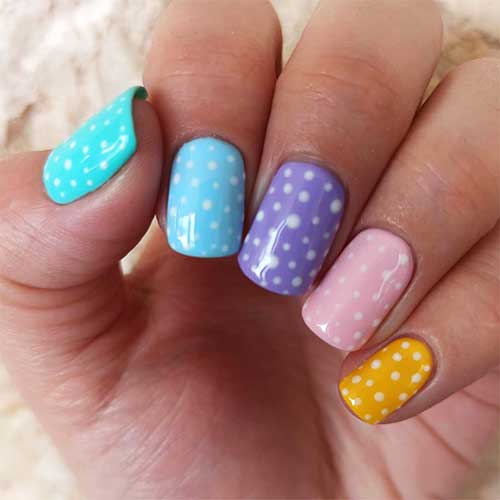 3. Cute Mint Green Summer Nails
Of course, I love the color mint green, and for me, it's a color that looks cute and innocent. It's a type of nail color that every person can go for. The mint green color will make you look younger and more fun. I don't know if that makes any sense, but if you understood then that is great! Of course, you can add some designs which can enhance the beauty of mint green. But still going for the color by itself will be fine.
At last, mint green is a great color to go for this summer. Also, Long nails will look amazing with it, but I suggest going for shorter nails since it is easier with shorter nails. It's up to you.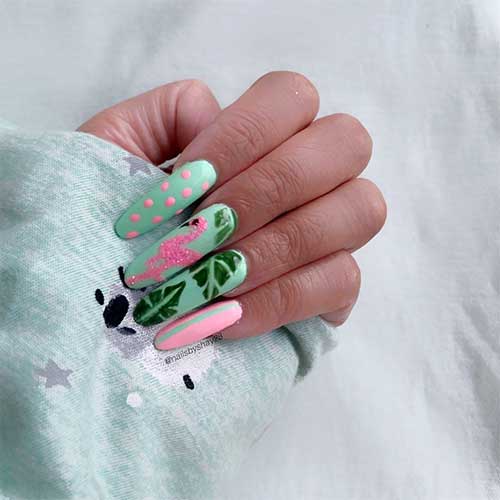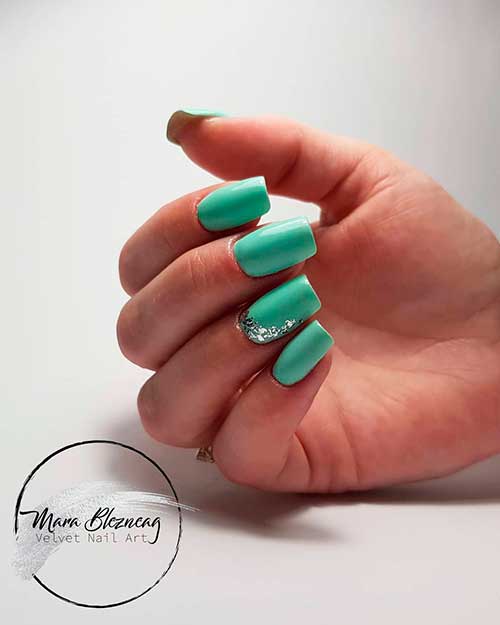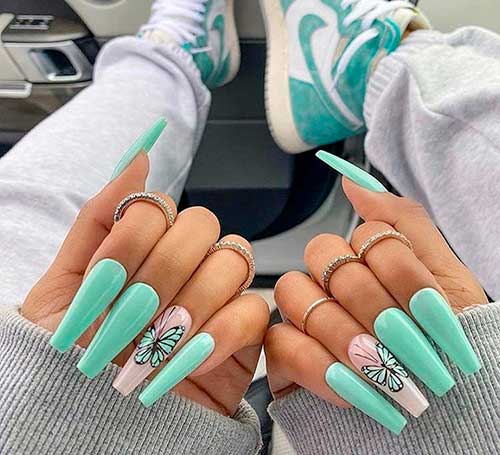 Short Mint Green Nail Design with Leaf Nail Art
If you want to make your summer more fun, go for a mint green nail design! This beautiful design is suitable for all seasons, especially for short nail-length lovers. Also, you can use stickers to add more zing such as leaf nail art. Of course, mint green nails are a fun way to change up your look and your lifestyle!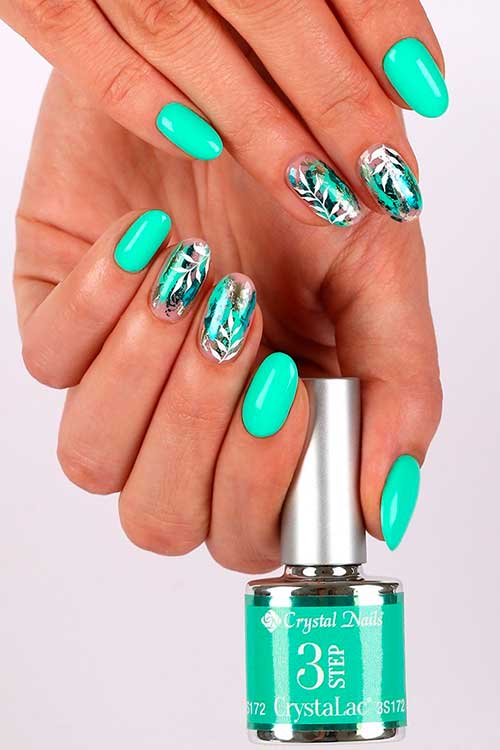 4. Summer Ombre Acrylic Nails
Ombre acrylics are something that every person would fall in love with, especially this summer. Almost everyone gets their nails done during the summer. Still, ombres can look amazing and trendy for this summer. In addition, many people have also done their nails with ombre acrylics, and they look fantastic. I think you will look fantastic in this kind of nail.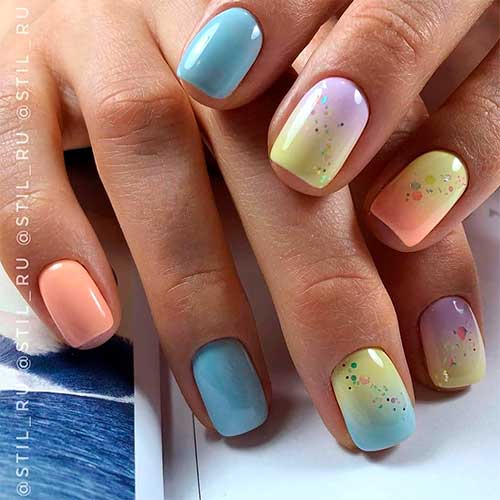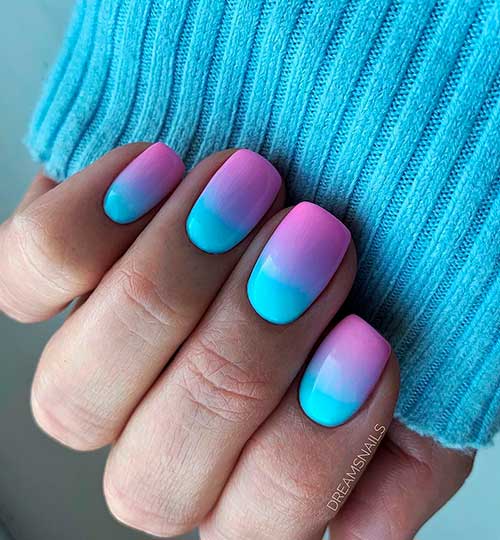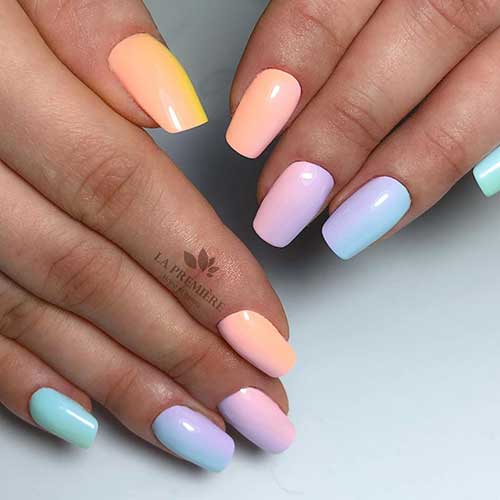 5. Summer Yellow Nails
Another stunning summer color, It's yellow one of my favorite colors, bright and a sign of happiness. Whenever I see the color yellow, I smile. This is the perfect nail color to go for this summer, but be careful of what shade of yellow you choose. Some shades do not really look that cute, yellow with long nails is a must. I find the mix perfect.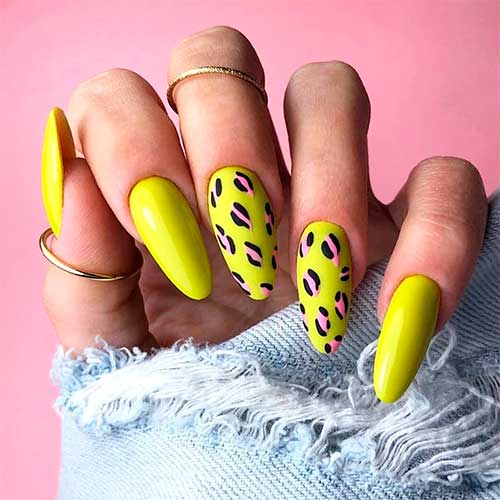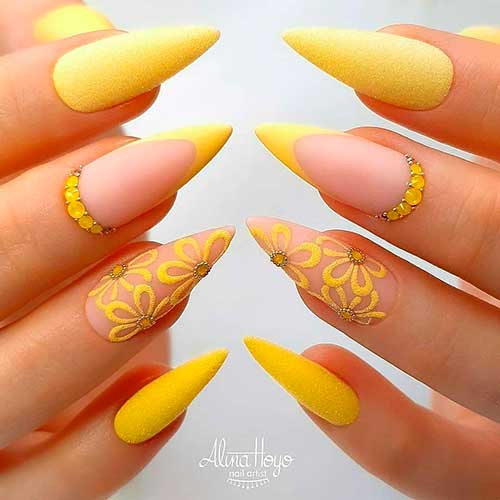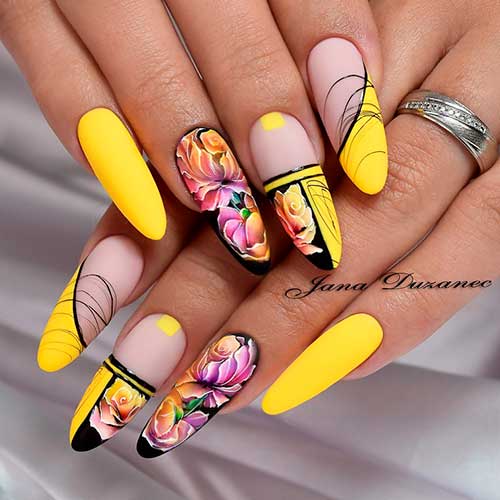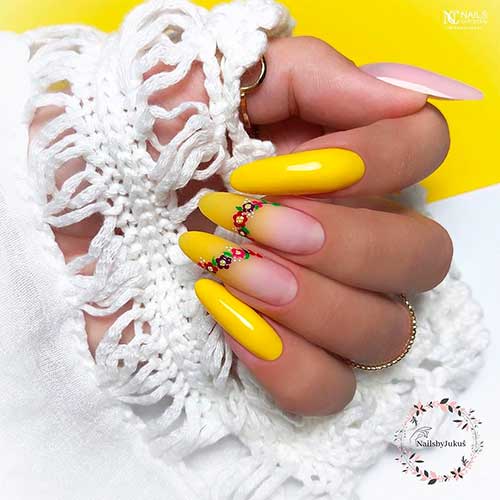 6. Purple Butterfly Glitter Nail Design
Who does not love the color purple? This color has its own charm! As soon as you see it in something you look at it long. So you will love wearing such a nail design and you will find yourself looking at your manicure every minute.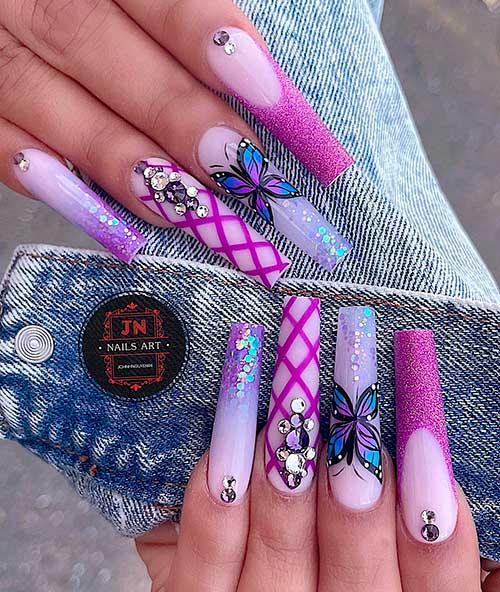 7. Tropical Cute Summer Nails
Those of us who love the tropical look can have our nails painted in a variety of fun summer colors to match the theme. Whether you're feeling particularly playful or want a fun nail design for your next beach party, the choice is yours. Indeed, beach-inspired nail designs can be created in a variety of ways, from simple designs to elaborate and intricate designs.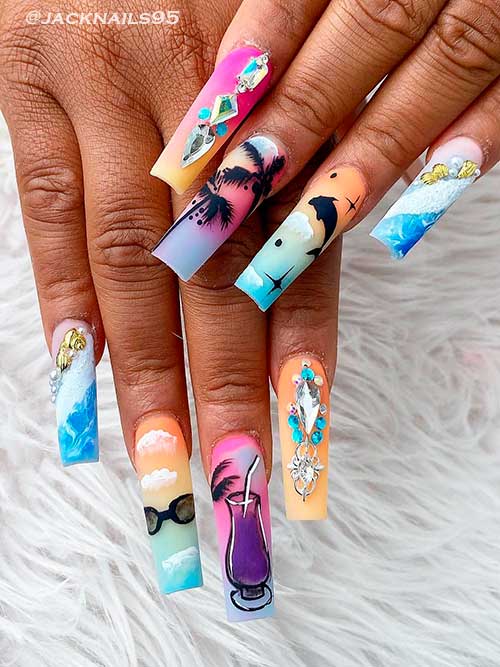 To Conclude
Finally, have you decided which nail design to go for? I know there are a lot of cute summer nails that you would like to try. But I promise you, with these nail designs, you will have the perfect summer.